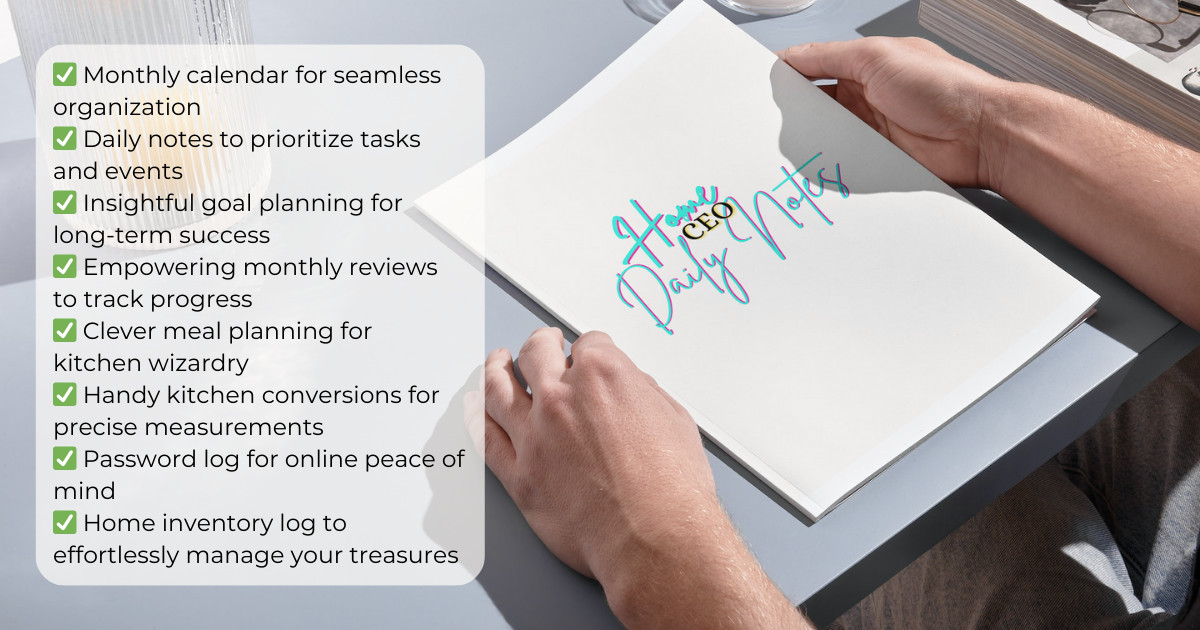 Homemaking requires exceptional organization and efficient planning skills. It's an art form that demands practice, perseverance, and purpose. That's why we're thrilled to bring you Home CEO Daily Notes, the ultimate companion for busy homemakers like you!
Our planner is your secret weapon. With its flexible 6-month undated format, conquer daily chaos, streamline processes, and bring order to your home sweet home. Say goodbye to the mess and hello to perfect organization with monthly calendars, goal planning, daily notes, and empowering monthly reviews. It's a game-changer that every homemaker craves.
Let's dive deep into the enchanting features of this indispensable companion and explore how it can truly revolutionize the way you manage your home.
We've made it super easy for you to get a monthly overview, effortlessly plan and manage tasks and events, and dive into daily details to set priorities and goals. Plus, the matte binding lets you date the spine for future memories. It's an undated 6-month calendar for maximum flexibility. Start and stop as needed without wasting precious pages. It's all about convenience! Because homemaking seasons change, and we may need different tools along the way.
Oh, and don't even get me started on the Monthly Goals section! Keep those goals at the front of your mind and take daily action towards achieving them. This planner helps you create a vision for long-term success through insightful goal planning. You can set achievable small goals or dream big with a big-picture vision. It's like having a roadmap to your desired destination: a hassle-free home.
With all that space for daily notes, you can create to-do lists, keep track of appointments, jot down grocery lists, or even just journal a few lines a day to remember how it went. That's what I call flexibility, my friend. This planner is perfect for every home!
Now, here's the thing. At the end of each month, it's important to review how you worked towards your goals, right? Well, guess what? We've got a monthly review section just for that! Keep notes on your progress, and easily look back to remind yourself where you started. It's like having a personal cheerleader on your side!
Can we all take a moment to appreciate the fact that we've made kitchen conversions easily available? No more frantic searches on your phone, my friend! We knew you needed those conversions at your fingertips. You're welcome!
Let's not forget about meal planning. We've got your back there too! With the Home CEO Daily Notes' meal planning feature, you can simplify the process and make quick and easy meal preps. Plan several weekly menus to choose from, rotate your family favorites, and make everyone happy with delicious meals. Plus, you'll know exactly what groceries you need each week. Say goodbye to meal planning stress!
Imagine this: you're on the go, and you have a convenient place to record your passwords. Consider it your personal confidential repository, akin to your mom's carefully curated compendium of vital information. Ta-da! You've now attained the esteemed designation of Chief Executive Officer of your passwords! How awesome is that?
And let's not forget about the home inventory log. Whether you're moving or decluttering, it's a stress-free way to organize your possessions. From large furniture to small trinkets, you can keep track of every single item in your home. And trust me, your insurance company will be pleased should something ever need to be replaced.
Homemakers like you deserve tools that simplify and elevate the art of homemaking. That's why we've created the Home CEO Daily Notes. It's got all the essential features to revolutionize the way you run your home. From seamless organization to insightful goal planning and empowering monthly reviews, this planner is your ultimate companion in creating a hassle-free home.
So, my friend, don't miss out on this amazing opportunity to take your homemaking skills to the next level. Get your hands on the
Home CEO Daily Notes
and discover the pure magic of running a stress-free home. Trust me, you won't regret it!